Thawte Web Server EV
Thawte WebServer EV SSL is recommended for enterprise customers. It provides the highest level of security by making visible the most significant security indicator - Web Browser's address bar become green, showing the company name that owns the SSL certificate and website. This helps reducing fraud and security breaches, and also increases the level of trust for your website.
Thawte is a trustworthy brand, owned by Symantec Corporation. Due to the fact that it's the first CA which appeared in 1995, it's root certificates are included in almost every browser. This means you get almost 100% browser compatibility even with older browsers.
Site Seal
: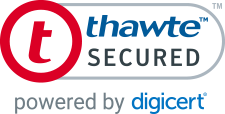 Green Bar with Company Name in the Web Browser

Installation on your hosting/server*

SSL Boosts Your Google Ranking
This SSL will make the browser have a green bar and display your company name :

Additional domain price:

$226.10

End-user warranty:

$1,500,000

Secures:

securse multiple domain names

Server licensing:

unlimited

Supported web-browsers:

99.9

Secures both with/without 'www.':

No

Verification:

securse multiple domain names

Documents:

registered company required

Issue time:

1-30 days**

Key encryption:

RSA 4096bit

Hash function:

SHA2: SHA256

Certificate encryption:

Up to 256-bit

Recommended retail price:

$299.00

Trust level:

Site seal type:

Dynamic
| Duration | Price | you Save |
| --- | --- | --- |
| 1 year | $199.00 | 0% |
| 2 years | $358.20 | 10% |
About Thawte WebServer EV SSL
Thawte EV SSL is a great choice for e-commerce websites or medium businesses. It has good issuing times - around 3 days, with good validation support. Thawte WebServer can be issued for unlimited servers. Also, free reissues are allowed in case the private key has been lost. This certificate protects data exchanged between the website with a 128 or 256bit encryption algorithm, depending on your browser/server settings. With 1.5M warranty, it is one of the highest assured certificates, so it could be used for shopping cards, banking software, accounting software or any other that requires the highest level of assurance.
It also protects your website against fraud and Man-in-the-middle-attack-s. Although it doesn't fully protect against all security vulnerabilities, it does improve fraud protection, by using the identity verification mechanism of the EV SSL. Your customer accessing your website, that was compromised, might see that web browser's address bar doesn't contain your company information, and might check again the security settings as well as the domain name that is accessed.
About Thawte
Thawte is a well-known SSL brand across the security industry. It was launched in 1995 in South Africa by Mark Shuttleworth, in his parent's garage. The goal was to avoid the restrictions on the export of cryptography imposed by the United States. Later his company Thawte Consulting switched its focus to issuing high-quality SSL certificates and was acquired by Verisign which then was bought by Symantec Corporation.
Trust Site Seal
All Thawte Certificates get a Trust Site Seal which is meant to show customers your company information, what algorithm the website is protected with and warranty. As Thawte WebServer EV SSL is the highest assurance certificate, each transaction that took place on the website which has the WebServer SSL installed, is assured by 1.5M U.S. dollars. That is a huge number, and it does increase customers' confidence in the website which has such certificate installed.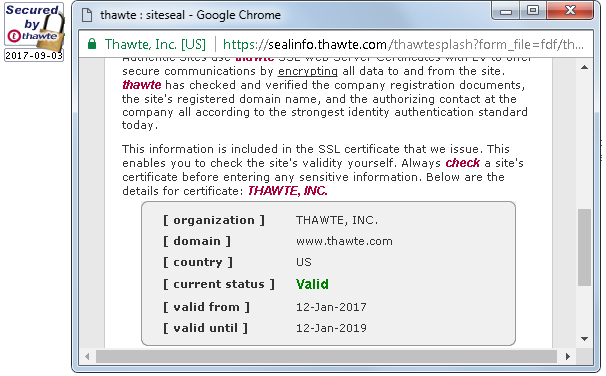 Buying Thawte WebServer EV SSL with CyberSSL
CyberSSL offers exceptional support and add-on services along with the SSL certificate. Our support team is fast and efficient handling any request. We do help with Extended Validation and SSL installation. However, in some cases, basic installation is not possible, and we might charge you for SSLAnyWhere service, which allows installing the SSL even if the server or hosting doesn't support it.