Thawte SSL 123 Wildcard
Thawte 123 Wildcard SSL is a very cost-effective SSL solution.
Thawte is a well known SSL certificate authority. It originates from South Africa, and it dates from 1995, which makes it one of the first Certificate Authorities.
Its Root CA Certificate is included in almost all web-browsers.
Site Seal
: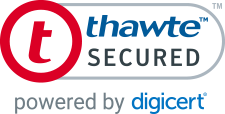 Green Icon in the Web Browser

Installation on your hosting/server*

SSL Boosts Your Google Ranking
End-user warranty:

$500,000

Secures:

secures all subdomains

Server licensing:

unlimited

Supported web-browsers:

99.9

Secures both with/without 'www.':

Yes

Verification:

secures all subdomains

Documents:

No documents required

Issue time:

1-15 minutes**

Key encryption:

RSA 4096bit

Hash function:

SHA2: SHA256

Certificate encryption:

Up to 256-bit

Recommended retail price:

$149.00

Trust level:

Site seal type:

Dynamic
| Duration | Price | you Save |
| --- | --- | --- |
| 1 year | $239.00 | 0% |
| 2 years | $430.20 | 10% |
Thawte 123 Wildcard SSL has a $500k end-user warranty, and it has the same browser support and reliability as Verisign.